Speedway Photography
On the 11th of February, I had the privilege of covering The Barry Butterworth Classic for Speedwaydownunder. It is an annual event for Speedway in honour of the late Barry Butterworth. Speedwaydownunder is the largest and leading resource of everything Speedway related in New Zealand. Being their official photographer is a real honour. Covering Speedway photography is an experience like none other as it truly is a treat to all senses – if you like that sort of thing of course. I love it.
Speedway Photography Makes Fast Work With Speeds Beyond 100kph!
Seeing the brightly coloured race cars speed past you at speeds beyond 100kph, their motors screaming and methanol fumes enveloping you. Then as they pass, you feel the massive blast of air and dust in your face that follows in their wake. For me, the best part is when a full field of full-size Sprintcars drive past. You physically feel the rumble of high-performance V8 engines in your chest as they slam the air aside and move down the circuit. After standing near the fence for a few heats I start to feel jittery and exhilarated. Even though I am only watching I can still feel the adrenaline that courses through the drivers' veins. The more I experience it, the more addicted I become.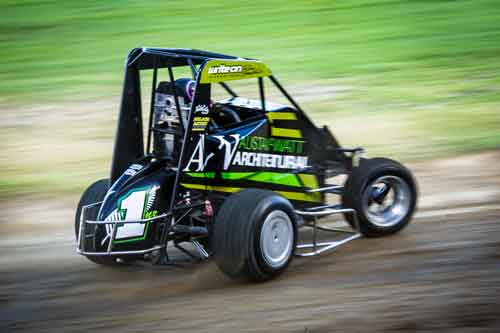 Challenging,Yet Rewarding
Of course shooting motorsport is not the easiest of forms of photography. Where's a wedding or 21st birthday you do not have your subject running past you at blurring speeds. It is a challenge for both me and my camera as we both need to perform to the edge of our abilities to get that magic shot of the action.
For me, it's finding the right moment to select a focus point of the car I want to capture and panning with it as it flies past. I'm doing this while ignoring the clods of mud assaulting my body and the dust entering my eyes as my subject continues down the track.
My camera works even harder; locking onto my selected focus point in milliseconds then snapping that shutter open and close repeatedly as I get shot after shot. Lastly, the buffer has to translate the millions of pixels that make up one image and dump it onto my memory card.
All this happens in about 3 seconds and we have a moment's rest before the pack comes back for another lap. After doing this for 3 or 4 hours we are both covered in mud and dust and are batteries are drained.
Not to mention my memory card is filled to the brim with photos ready for the editing suite.
I edit Speedway images much the same way I do a Wedding or Portrait shoot. Every photo gets cropped and has the usual colour balancing and lens corrections that any photo I publish does.
After that, I play around with colour toning and some get special treatment to enhance the photo. I tend to leave Speedway images full colour, as I feel the dynamic adds more excitement and drama to them.
Here are some of my favorite images I captured that night. They are an exciting memory of an amazing nights racing. If you would like to see the complete set of images and more from previous evenings, please check out my Facebook profile.
Contact me now for questions and to hire.